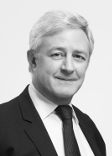 Chairman
Stephen is an experienced international banker currently based in Cyprus, who offers more than 35 years financial and commercial experience, primarily gained in the European, CIS, Middle Eastern, African and North American markets.
His broad hands-on experience includes leading transactions in privatisation and financial advisory, corporate restructuring, structuring of senior, junior and equity-linked capital market transactions, tax structuring, project finance and PPP, mergers and acquisitions, leveraged and management buyouts and workouts, private wealth and fund management.
Before founding the BPA International brand, he was a Managing Director at Bank of America NA, responsible for investment banking activities in the developing and emerging market countries of the EMEA region and was a member of the bank's EMEA Management Board.
Prior to joining Bank of America, Stephen held front office positions with The Fuji Bank Limited, London Branch (Mizuhu Corporate Bank, Limited 1986-1991) and Midland Bank Plc, London (HSBC plc 1979-1986).
Key Reference Transactions
UK - developed the first Public Private Partnership transaction which successfully financed the £ 95.5 million Fazakerley Prison project (1995)
South Africa - led the US$ 1.5 billion financial restructuring of FTSE 100 mining group BHP Billiton, enabling its relocation to the UK (1997)
Ukraine - led a team mandated to privatise the State-owned fixed line telephone operator Ukrtelecom (2001 – 2004) and advised Ukravtodor (the State Roads administration of Ukraine) on the development of PPP road concessions and held a seat on the Ukrainian Cabinet of Ministers PPP Working Group (2005 – 2006)
Slovakia - led the team which restructured € 1.2 billion of debt and privatised the Slovak electricity generator Slovenske elektrarne (submitted by the EBRD to "The Treasurer" Magazine for the 2004 "Deal of the Year" award) (2003 - 2006)
Kazakhstan - led the team appointed by the shareholders and Government to crisis manage Valut-Tranzit Bank JSC, a top 10 bankassurance group with more than 5,000 staff (2006 - 2007)
Kazakhstan / UAE – led advisory teams engaged in M&A and greenfield projects principally in the real estate, cement, mining and oil & gas sectors (2007 – 2011)
UK – a founder and shareholder of Pillars for Life Ltd, an internet based provider launching new global services from 2022 (2017 – date)