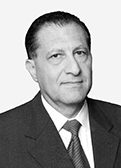 Based in Dubai, UAE
Oversight of activities in the Gulf region
Based in Dubai, Jamil has more than 40 years of experience in the region, where he has been involved in large scale projects and has acted as legal counsel for local and international corporations covering a broad range of commercial, corporate and maritime matters including joint ventures, mergers and acquisitions and real estate development.
After serving in the Dubai office of US Multinational McDermott International Inc (1975 – 1988) Jamil established a private legal practice (1988 – 1991) until he was retained by Can American Holdings to assist in the development of the Ajman Free Zone as well as other large scale industrial projects.
Jamil returned to private practice (1994 – 2007) until he was recruited as a senior officer in the Dubai office of Centuria Capital, an investment banking boutique subsidiary of the Dexia Bank Group (2007 – 2008). He left to assume compliance and legal positions in several Dubai based groups (2008 – 2012).
In 2012 Jamil established Prophase Corporate Services which provides consulting and legal services in the GCC and joined BPA International Group in 2016 as the Director, Gulf Region.
Key References
UAE - member of the Dubai-2003 organizing committee that planned and managed the World Bank and IMF meetings held in September 2003.
UAE - involved in the development of the Ajman Free Zone.
Pakistan – involved in the development of an oil terminal and 320 MW power station.