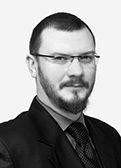 Based in Kiev, Ukraine
Oversight of activities in the CIS Region 

Sergey offers more than 20 years financial and commercial experience.
He trained as an International Lawyer, and studied in Kiev International University where he successfully represented Ukraine in the Telders International Law Moot Court Competition in 2001 at the Peace Palace in the Hague.
Sergey has worked with the Chairman of BPA International since 2001, and helped form the BPA International brand in 2003.
Key Reference Transactions
Ukraine - advised on the privatisation of the State-owned fixed line telephone operator Ukrtelecom (2001 – 2004)
Ukraine - advised the State Roads administration of Ukraine on the development of PPP road concessions and held a seat on the Ukrainian Cabinet of Ministers Working Group on PPP (2005 – 2006)
Moldova - advised on the restructuring of IM "Glass Container Company the leading manufacturer of dark green packaging in the Western NIS region (2005 - 2008)
Moldova - advised on the sale of the apple juice concentrate activities of Natur Bravo by Horizon Capital (2006 – 2007)
Kazakhstan - was a member of the team appointed by the shareholders and Government to crisis manage Valut-Tranzit Bank JSC, a top 10 bankassurance group with more than 5,000 staff (2006 - 2007)
Kazakhstan - advised on M&A and greenfield projects principally in the cement, mining and oil & gas sectors (2007 – 2018)